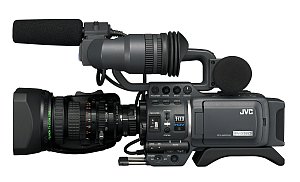 I've had my JVC GY-HD110 camera for several months but not until last night had I attempted to shoot anything HD with it. In this brief test the camera was connected directly to my computer via a firewire cable so it's not quite the same thing but it's enough to see that the computer can see the camera and can take video from it in HDV.
The lighting stinks and I didn't even mic myself up. I just used sound from the "shotgun" mic attached to the camera. That's why it sounds so tinny. You can see the 16:9 aspect ratio shoots a much wider frame (hence the black bars at the top and bottom).
Next task will be to try a green screen test.